Our elections have been a part of our republic since its youth. Did everyone have the right to vote when America started the great experiment as a constitutional republic? Was the right to vote extended to everyone back in the day? These questions must be answered.
The people who were eligible to vote back when the republic was founded were male landowners. A woman did not have the right to vote in many states. It was assumed since the male was the head of the house and a land owner. He made decisions based on the best interest of his family and livelihood preserving property rights. Many states set up the system to protect his personal liberty for him and his posterity. The people who cast their ballots were individuals who had an actual stake in what he earned. The people who contributed with their labors earned the right to vote to protect his interest as a landowner and the head of the house. That was the biblical answer back then in a male patriarchal society based on Christian doctrine.
After the war of independence was won. Ninety percent of the colonists owned the land they lived on.
When the War of Northern Aggression was over. The right of free Black Slaves was given the right to vote under the 15th Amendment and the Woman was allowed to vote with the ratification of the 19th Amendment. I am for all people regardless of race, gender or national origin being allowed to vote requiring they meet the eligibility requirements under the law.
The truth is the privilege to vote is not a right everyone does not have. There are restrictions to who and who cannot vote. Why? To preserve our republican form of government making sure the people who are directly stand to gain or lose have a say in government.
When landowners were the only people allowed to vote. They cast their ballot so they can put public servants in office to ensure the government was not interfering with their livelihoods. The reason is because they were the ones that produced and employed people. They were the engine of the economy. Think about it.
Land owners did not elect people who will impose taxes on his land.
Land owners would not vote people into public office who will erect a bureaucracy to impose restrictions on his own land.
Land owners would not elect public servants to tax the fruits of his labors to give it to a group of people who are able bodied who refuse to work.
Today there is still a restriction on who can vote.
A citizen has to be 18 years old to vote.
A person who is mentally incompetent is not allowed to vote.
Convicted Felons are not allowed to vote.
Some states do not register to vote unless they take an oath to preserve, protect and defend the Constitution of the United States and the State they reside in.
Some states in the past required people to take a test to see if the perspective voter had knowledge of our constitution and our own form of government before they were allowed to cast a ballot in an election.
Dead people are not allowed to vote(but somehow they do in Chicago and vote more than once)
Non-citizens are not allowed to vote. The only people allowed to vote are natural born and Americans who are naturalized citizens taking an oath of allegiance. These people took classes on our Constitution. They learned our history.
Right now. The Democrat party is now trying to bring in a swarm of illegal aliens to be made legal by executive fiat by the President Obama. They want to make them voters to make sure the party survives with a new voter base. Why? Because Barrack Obama is causing mass defections of Democrat voters leaving the party in disgust. They need the uneducated, an ignorant and dependent underclass to be the new voters who will vote for government handouts.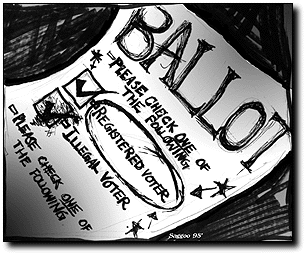 The Democratic Party does not want these people learning about our history. They do not want these migrants to learn about the Bill of Rights and how our form of government works. They do not want them to become real Americans. Still, they want these people to register to vote and vote Democrat. This how they are going to try to turn Texas from a red state to a blue state by new voters not familiar with how our republic is supposed to work. Instead of imparting the culture and language of these people to be self reliant and successful citizens being productive members of society. They want to import third world values to the United States through the ballot box.
We have to regain the control of our elections and enforce the eligibility requirements. States have to nullify Federal Elections laws that create loopholes that make it possible for voter fraud. Election laws governing the eligibility and qualifications of voting is a state right issue, not a federal issue.  If we do not start enforcing the laws of the union What happened in California when Rep B-1 Bob Dornan lost reelection to Sanchez thanks to 984 margin because of illegal aliens voting. What Happened to B-1 Bob can happen nationwide this fall with illegal aliens giving back control to the US House Back to the Democrats if we do not act now.
I am not a racist or do not want to hold back any people based on their race or color to vote if they qualify as meeting the eligibility requirements. I want them to have what is best using their God given talents to produce something tangible that benefits society as a whole. I do not want them to be laborers working for low wages as a permanent underclass voting in the very oppressors they fled from. These leaders they vote into office are wolves dressed in sheep's clothing, keeping them in a vicious dependency cycle.
If these people go back to their country and enter in the legal way respecting our laws.
If these people learn English and assimilate into our culture.
If these people take naturalization classes, learning our history, our Constitution and about their God given liberties remaining in the country for seven or more years.
Once completed the necessary requirements. They can take the oath of allegiance to be Americans renouncing the country of origin.
If they take responsibility for their own lives becoming self reliant having a good work ethic.  God bless their efforts.
If these people meet the criteria to be Americans. Then they earned the right to vote and participate in the democratic process.  Welcome to America.
The truth is the right for everyone to vote does not exist in the Constitution. Do you agree?
Powered by Max Banner Ads